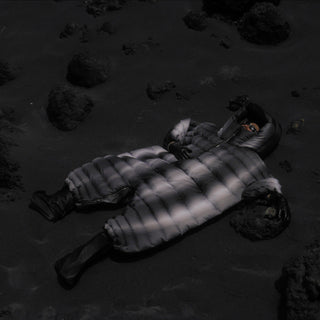 About
Izzy Du, is a Chinese-Canadian designer based in London. She attended Central Saint Martins and graduated from the Antwerp Royal Academy of Fine Arts, Fashion Department in 2021. This body of work will be the first under the brand IZZY DU, with the designer's 21' graduate collection as a prelude. 
IZZY DU is launching with a ready-to-wear line: IZZY DU /LIFELINE, and a first official main runway collection titled "PROVENANCE". The designer imagines an astounding world in which the beings within are morphed from the surrounding landscape and tinted by the hues of the atmosphere. Focusing on external silhouette outlines and the internal structure of a garment, Izzy Du's work combines and manipulates various materials to create dimensional contrast between the garment and the negative space they create on the body. This gives to her work singularity and unrepeatable originality. 
IZZY DU /LIFELINE is primarily focused on the wearer. This line is centered on quality fabrics, flattering for the body, integral colour schemes, and comfort. Characterised by minimal finishings and trims, pure prints and apex pattern making, every element is considered consciously. Rooted in fundamentals, this collection is about reducing excess and rebounding to the basics of garment-making. Technically constructed garments that everyone, no matter what style, age or gender, can link seamlessly into their wardrobe.
Main fabrics in the collection are cotton, silk, and a water-repellent, bi-stretch polyamide tech fabric for comfort, breathability and versatility.
All puffers are filled with duck down and feather and encased in water-proof fabric made with 100% recycled polyamide.

Follow us on Instagram @IzzyDu
Press inquiries:press@autrementpr.com